Help for Children & Teens
When our children are struggling, it can be a very scary and concerning time. The good news is, you don't have to go it alone. At the Family Guidance & Therapy Center of Southern California, we understand just how important your child is to you and we take special care to earn your trust. We also know that the ability to form a close and connected relationship with your child is one of the best ways that we can help your child grow. We specialize in therapy for children and teens and can offer many solutions to help your child and your family.
We can help
Children are a bit different than adults and symptoms of mental health disorders can easily be overlooked. Children often don't know to ask to see a therapist, but when daily life becomes more and more challenging for both you and your child, it might be time to call for help.
Here are a few symptoms that could represent an mental wellness issue:
Irritability
Anger
Difficulty concentrating
Anxiety/fearfulness
Pessimism/negative outlook
Grades dropping or more difficulty completing assignments
Conduct problems at school
"Acting out"
Arguing with family members
Limited or no invitations from friends
Difficulty separating, going to school, clinginess
Risk taking (smoking, drinking, sexual promiscuity)
Becoming quiet, sullen, down
Appetite changing suddenly
Difficulty managing responsibilities or staying organized
Difficulty making and maintaining friendships
Significant rigidity, bossiness, inflexibility, "needs to be right"
Growth rate slowing
Talk about death, suicide or violence
*Of course all children have bad days and the presences of any one symptom is not likely to be cause for alarm.
Life's Transitions
Children can also benefit from talking to someone when life transitions are not in their control:
Divorce
Death of a loved one
Parent marrying a new partner
Moving to a new neighborhood, school etc.
Sibling with a disability
We know you want the very best for your child. You hurt when they hurt. We are here to support your child to learn healthy and practical coping skills that will serve them for their lifetime.
Live purposefully. Love fully. Grow with us!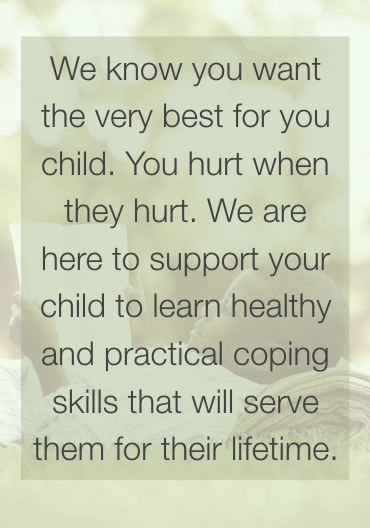 Two Locations to Serve You
Point Loma Location
3555 Kenyon Street, Suite 101
San Diego, CA 92110
Mira Mesa/Scripps Ranch
10731 Treena Street, Suite 105
San Diego, CA 92131